It's no secret that modern cities are the biggest sources of environmental pollution in the world. Life in such places is not at all conducive to health either for humans or for nature, which is gradually but surely being replaced by houses, offices, roads and industries. But in the minds of people who have reached a certain limit, an understanding awakens that this state of affairs does not benefit them: the destruction of natural conditions leads to the destruction of the very foundations of human life. The consequences of global pollution of the planet with carbon dioxide emissions, plastic and other types of non-recyclable toxins, extreme climate fluctuations, as well as the extinction of many animal species can be observed today in all corners of the world. Therefore, recently more and more countries or individual cities are taking measures to reduce the harmful impact on nature and thereby improve human living conditions.
In this article, we want to share the successful experience of various cities around the world, which have proved, not in word, but in deed, that the use of environmentally efficient methods of arranging social life is possible today. This is largely facilitated by green energy, the introduction of tariffs for environmental pollution, innovative solutions in the field of transport, recycling of waste, etc. But the main distinguishing feature of such regions is a clear understanding of the interaction between nature and man, a high culture of consumption, as well as respect for natural resources. resources and focus on the long term.
Northern Europe: Iceland and Denmark
Reykjavik,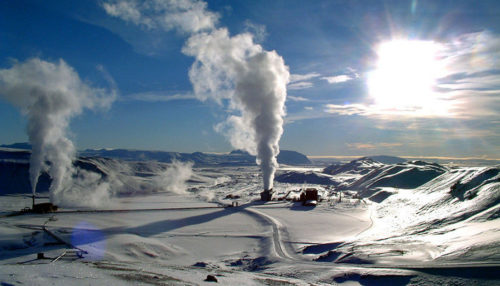 starts our list of ecological cities . As the world's northernmost, and therefore coldest, capital, Reykjavik is known for pioneering geothermal (i.e. hot spring) and hydroelectric renewable energy, which together provide 95% of the city's heating needs. No other city has reached this level per capita. Reykjavik is a global hub for renewable energy research with several universities, government departments, public and private companies. It can also please eco-tourists with accommodation in "green" hotels. A distinctive feature of the city is also the fact that all research and projects receive significant financial support from the state. The city is actively supporting an increase in cycling (currently from 19 to 30%), and is also encouraging the use of electric cars by 9,000 civil servants. Reykjavik aims to be completely fossil fuel-free by 2050.
Another "green" and northern capital is Copenhagen (Denmark). In 2014, the city was recognized as the "Green Capital of Europe" by the European Environmental Commission. Copenhagen aims to achieve zero carbon emissions by 2025. Denmark is one of the first countries in the world to implement an environmental law and since then the environment has become one of the city planning priorities. Copenhagen is currently equipped with renewable energy sources, mainly solar and wind power (and offshore wind farms), as well as coal-fired power plants, which are planned to be replaced with biomass. Wind already provides at least 30% of all Danish electricity. In 2015, due to strong winds, Denmark's wind farms generated enough power to share it with neighboring countries. The country actively encourages the use of bicycles (35% of the population use them) as the main means of transportation, which we wrote about in our article " 10 things Danes do on bicycles ". Since 1995, Copenhagen has a system of free bicycles for residents and guests of the capital. The bus fleet in Copenhagen runs on biofuels, and by 2025 most vehicles should run on hydrogen, electricity, bioethanol and biogas. Also, many other green initiatives are being carried out in the capital of Denmark (for example, cleaning up the local harbor from pollution), in which the residents of the capital take an active part, whose opinion is taken into account when choosing work. Copenhagen has pioneered discounts for switching to hybrids and electric vehicles, as well as financial incentives for recycling plastic bottles.
In May 2016, Copenhagen launched the massive City Data Exchange , which focuses on achieving the goal of becoming a carbon neutral region by 2025, as well as improving the quality of life for citizens and boosting the local economy. The project, developed by Hitachi Insight Group, provides access to public data for both city officials and ordinary citizens. To demonstrate how data from the City Data Exchange can be used effectively, two separate applications have been developed: Journey Insight, which helps citizens in the region track their use of transport over time and understand the carbon footprint of their trip, and Energy Insight, which allows both households and businesses to see how much energy they are using.
Latin America: Brazil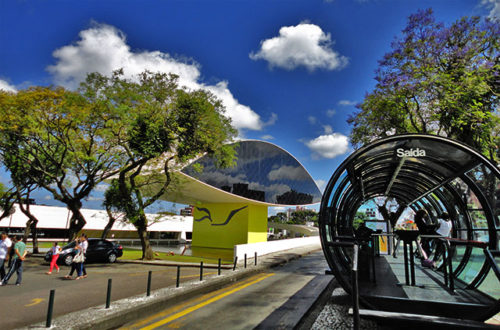 But not only Europe is ahead of green technologies. Brazil also has something to be proud of! Curitiba is a city in the south of Brazil, the gold standard for sustainable urban planning, the "green capital", "the greenest city on Earth", "the most innovative city on the planet". Environmental reforms here began back in 1972, when architect and new mayor Jaime Lerner converted the highway into a pedestrian alley despite numerous protests. Subsequently, the urban transport system was also significantly changed: for the first time in the world, a system of high-speed buses was introduced - metrobuses (Bus Rapid Transit (BRT), - featuring higher performance compared to conventional bus routes. Separate traffic lanes were allocated for them, special ones were built " pipe "platforms (see photo) , allowing you to get directly from the metro stations to the bus stop. To date, about 85% of the city's residents use public buses in Curitiba, which allows you to use a third less fuel per capita compared to other major cities in the country. It also has one of the lowest levels of air pollution in urban Brazil.
The city's other green innovation was the 1989 Green Exchange Program, in which city residents exchange trash for transport tokens: 4 pounds of trash for 1 pound of tokens. By 2007, the residents of Curitiba had collected more than 45,000 tons of garbage, and today the initiative has been developed with a special program in the city's schools (Special Green Exchange Program). In general, the recycling of garbage in the city is about 70%, because Mayor Lerner believes: "We cannot keep landfills forever and cannot ask others to accept our garbage. Garbage collection is the duty of a citizen. Creative approaches are used to stimulate recycling: garbage cans with funny pictures have been installed to remind residents of cleanliness, a social program has been created to finance the process of working with waste, there is a system of rewards for adults and children who recycle waste and receive goods for the school in return, and old buses are used to create mobile school classes or reading rooms.
In addition, the green areas of the city have been actively expanded - today it is more than 50 m 2 per person, which even exceeds the norms recommended by the UN. This is caused by frequent floods due to the proximity to the ocean: instead of building expensive technological structures, it was decided to increase the natural regulators of the water balance. Wool from goats and sheep grown in these green areas is sold, and the proceeds go to the social needs of the city.
Asia
Singapore , has the highest indicator of sustainable development in all categories . Since 1965, when independence was gained, the city began its planning with a bias towards sustainable development: economic, compact planning and greenery. Singapore ranks first in the world in terms of the amount of green spaces within the city - almost 30% of the territory. One of the features of the city-state is the lack of natural resources, especially fresh water. This encourages city leaders to make creative decisions. For example, NEWater, one of the most efficient and world-famous water management systems, was created, which includes the collection of rainwater, the purification and reuse of waste water through microfiltration, reverse osmosis and ultraviolet technology, as well as the development of a new technology for desalination of salt water. . Part of the fresh water comes from Malaysia.
The giant metal trees of Singapore are not just a decorative landmark of the city. They absorb heat, collect rainwater, and solar panels are installed on top of each of the 18 structures, the energy from which is used to light the garden. According to 2012 data, more than 80% of Singapore's buildings are BCA Green Mark Certified (this certification system was launched in January 2005 to engage the building industry in the creation of greener buildings in order to ensure sustainable development and environmental awareness of developers, designers and builders ) . This certification takes into account indicators such as reducing the use of electricity, water and other resources, reducing environmental impact, improving the internal environment for health, as well as long-term improvements. Singapore also has the lowest waste per person per year among Asian metropolitan areas, at 307kg compared to an average of 380kg. The government has set a goal to recycle 65% of waste by 2020 (in 2008 this figure was 56%). We could go on citing examples of city environmental initiatives for a long time, but the fact remains that when the government is interested in the long term and caring for the well-being of its residents (which follows from caring for nature), then success will not be long in coming.
North America: USA
On the North American continent, the Californian city of San Francisco . Even with the still high level of carbon emissions and the use of coal in industry, this city has a lot to learn. Back in 2007, San Francisco became the first American city to ban plastic bags, with some grocery stores introducing alternative composting bags. In 2009, San Francisco required all residents and businesses to separate recyclables and compost. The result was a recycling rate of 78%, the highest in the world after Leipzig, Germany (81%). Shops, restaurants, and residential streets in San Francisco have bins to separate waste. A system has been set up to allow farmers to collect compost from other businesses and use it to grow food. Last January, we wrote that San Francisco would phase out plastic bottles up to 21 ounces (620 ml) over 4 years.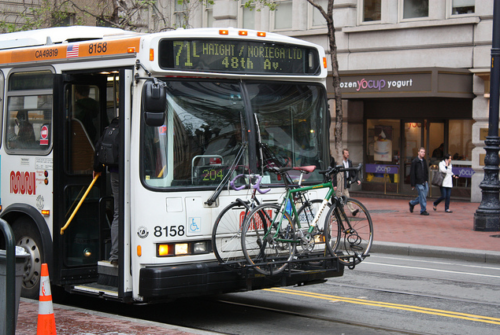 San Francisco is also famous for its public transportation (MUNI), which mainly features electric-powered buses and trolleybuses that are powered by overhead wires. They are labeled "hybrid-electric" and "zero emissions". Also in the American city buses of the "clean air vehicle" category run on compressed natural gas. The use of the local BART high-speed train system is actively encouraged (financial incentives are introduced in some companies), as well as bicycles (street improvements for safe cycling, cycle road map). Many buses have external bike racks that can hold two bikes each. These measures have led to excellent results: since 2010, it has been possible to reduce greenhouse gas emissions by 19%, water consumption by 24%, and fuel use by 7%.
In addition, the city actively welcomes vegan food (it is known that animal husbandry harms the environment more than all other sources of carbon dioxide emissions) , and also encourages the sale of local farm seasonal goods, depending on which the menu in establishments changes. Stores are also opting for farmland, which is more sustainable than monoculture industrial land, and the San Francisco Parks Department is committed to growing food within the city.
Environmental initiatives in San Francisco do not stop. a bill that came into force on January 1, 2017 , requiring all buildings below 10 floors to equip from 15 to 30% of the roof for electrical panels or living space. Thus, it is planned to reduce greenhouse gas emissions across the city by 2025 by 80% below the level of 1990.
Ratings of the most environmentally friendly countries and cities
Yale University (USA) has developed a special indicator of environmental friendliness for countries - the Environmental Performance Index (EPI). It has been compiled and updated for 15 years now and aims to select the countries of the world that are closest to achieving the UN Sustainable Development Goals. It takes into account factors such as climate and energy use, water resources and their management, biodiversity, agriculture and fisheries, forests and their conservation, air and water pollution, as well as other factors affecting the health of the country's inhabitants. According to the 2016 report, the most environmentally friendly countries are:
Finland (rating - 90.68);
Iceland (90.51);
Sweden (90.43);
Denmark (89.21);
Slovenia (88.98).
The United States was in 26th place (84.72), Russia - 32nd (83.52), Ukraine - 44th (79.69), China - 109th (65.1).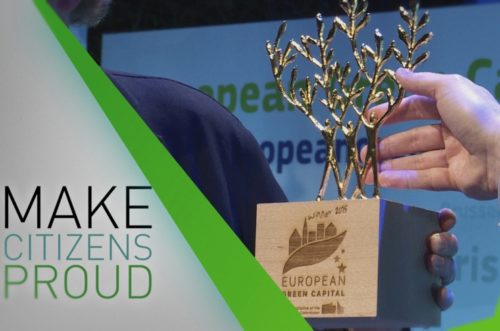 The European Commission annually presents the European Green Capital award . They were owned by:
Stockholm, Sweden (as of 2010);
Hamburg, Germany (2011);
Vitoria-Gasteiz, Spain (2012);
Nantes, France (2013);
Copenhagen, Denmark (2014);
Bristol, UK (2015);
Ljubljana, Slovenia (2016);
Essen, Germany (2017);
Nijmegen, The Netherlands (2018).
According to the latest edition of the Global Green Economy Index ( 5th edition 2016 ) from Dual Citizen, a data and communications company for green development, the greenest cities at the moment are:
Copenhagen, Denmark (rating - 99.98);
Stockholm, Sweden (99.72);
Vancouver, Canada (96.7);
Oslo, Norway (84.47);
Singapore (74.42);
New York, USA (74.31);
Berlin, Germany (72.59);
Helsinki, Finland (71.51);
Paris, France (69.53);
Tokyo, Japan (69.5).
Ecologically problematic cities
Unfortunately, the above environmental measures, as a rule, can be afforded by countries with a high level of economic development, which make up a smaller part of the populated area of ​​the planet. There are many more places in the world with a critical level of environmental pollution, from which millions of people die every year. It would not be superfluous in this article to give examples of such cities that are not the best place to live, but, despite this, many of them are million-plus cities.
In 2016, the World Health Organization (WHO) analyzed the air in cities for particulate matter, which is so small that it can enter the lungs and cause serious health problems. It turned out that more than 80% of all urban areas of the world have levels of air pollution above the established norms. Between 2008 and 2013, global urban air pollution levels increased by 8%. The most dangerous particles for humans are PM2.5 with a diameter of less than 2.5 microns, which are found in soot, smoke and dust. The concentration of these particles in the air starts to become a major public health concern when there is more than 35.5 micrograms of PM2.5 per cubic meter of air, according to the US Environmental Protection Agency. But the World Health Organization recommends keeping average PM2.5 levels three times lower each year.
So, 2016 report
Zabol, Iran - PM2.5 content for 2012 217 µg/m3;
Gwalior, India - PM2.5 content for 2012 176 µg/m3;
Allahabad, India - PM2.5 content for 2012 170 mcg/m3;
Riyadh, Saudi Arabia - PM2.5 content for 2014 156 µg/m3;
Al Jubail, Saudi Arabia - PM2.5 content for 2014 152 µg/m3;
Patna, India - PM2.5 content for 2013 149 µg/m3;
Raipur, India - PM2.5 content for 2013 144 µg/m3;
Bamenda, Cameroon - PM2.5 content for 2012 132 µg/m3;
Xingtai, China - PM2.5 content for 2014 128 µg/m3;
Baoding, China - PM2.5 content for 2014 126 µg/m3.
Unfortunately, the list can go on for a very long time. According to WHO estimates published in 2014, in 2012 more than 7 million people worldwide died from air pollution. Southeast Asia and Western Pacific lead regionally, with 3.3 million deaths attributable to indoor air pollution and 2.6 million deaths attributable to outdoor air pollution.
The main diseases caused by external air pollution are:
40% - ischemic heart disease;
40% - stroke;
11% - chronic obstructive pulmonary disease (COPD);
6% - lung cancer;
3% - acute infections of the lower respiratory tract in children.
The main diseases caused by indoor air pollution are:
34% - stroke;
26% - ischemic heart disease;
22% - chronic obstructive pulmonary disease (COPD);
12% - acute infections of the lower respiratory tract in children;
6% - lung cancer.
Summing up
I would like to wish everyone to live in decent, environmentally friendly conditions, beautiful green space around and harmony with the outside world. But do not rely on someone in the hope that the world will change for the better. Take the first step towards improving your relationship with nature, a healthy and sustainable lifestyle in a style of respect for all life on this Planet. tips for every day, as well as articles on the site, can help you with this And may all living beings be happy! 🙂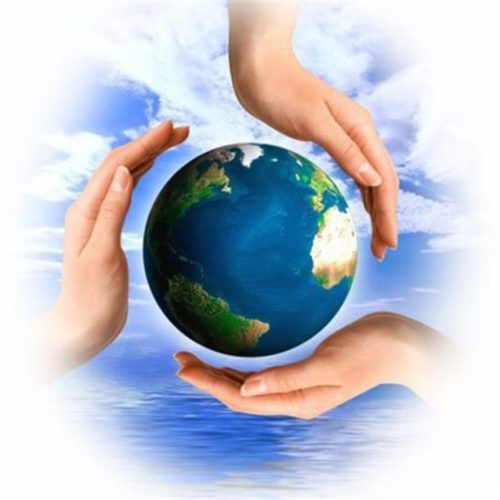 See also anekdotig: